What is up with the text messaging? When did this become the "thing" to do? And why didn't I get to vote on whether it became the "thing"? Good lord in heaven. An underground movement of text messengers slowly, and quietly, mobilized. They started out with the teenagers, because their thoughts are just the right length for a five word text message. Then they slowly started making inroads into the adult community as well. And then one day, without warning, I'm getting 10 text messages a day on my damn cell phone. And each one leads me closer to a shooting spree. Only I don't have enough time for a shooting spree, cause I'm too busy replying to text messages by typing one word a minute on a my NUMBERED phone. Holy mother of something ugly, these things are going to be the end of me.
Look, I know everyone is all about text messages, because ooo aren't they so handy and to the point and quick. Uh, no, they are not quick. I type 70 words a minute. I can type faster than I can think. (which, okay, isn't saying much, but still.) So when I am forced to type with only one finger on a tiny ass keypad I begin to think faster than I type. And then I forget what I was going to type, cause I've already thought to like my third sentence and I've only typed two words, and dammit, I spelled one wrong.
I don't know if you've noticed by my ability to write between 500 and a 1000 words a day about nothing at all – but I like to ramble a bit. In fact, this blog sorta evolved from my constant rambling e-mails to friends. One finally said, "You know, you should really start a blog (and stop e-mailing me)." The part in parenthesis was implied.
So when people write me text messages it is actually painful for me to only be able to write a one sentence reply. Who has a one sentence opinion about anything? Well, teenagers do. But not me, as I am a deep, thoughtful person. And I tend to ramble a bit.
Now, I get why teenagers love the text messaging. It is the high tech version of passing notes in class. They are at that age where you can spend all your break time with your friends, have classes with them, talk to them for 3 hours a night on the phone and yet STILL have something that simply HAS to be written in note form. Because heaven forbid you have a single thought that isn't instantly relayed to your BFF. So I think text messaging is perfect for that crowd.
And I can see how a quick text message saying, "When we meeting for dinner?" is also an okay use of the texting. But when you start doing a majority of your communications and/or making major announcements via text messaging, then there is a problem. And not just with the arthritis you must be building up in your poor fingers.
I got a text message from a friend of mine that said: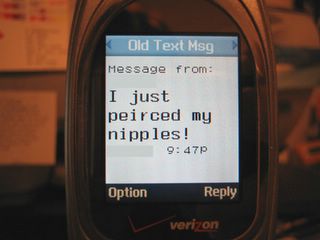 What?!! How is that a TEXT MESSAGE??!! I'm seriously wondering what this girl considers worthy of an actual phone call. I know cell phone minutes are expensive, but come on. If you are PIERCING anything that is covered by a bathing suit there needs to be words shared. Even if the words are complete silence on my part as I sit in shock.
So people. Stop texting me. I'm not going to answer. It's a waste of my time and what little sanity I have left. If you really need a written response from me I'll pass you a note the next time I see you. And then you can show me your nipples.
And Speaking of Teenagers…
I found this site online that lets you post any random music video you want. !!! They had some new music up there, some of the hip happenin' artists of the day. But who cares about them? If I wanted to listen to them I could watch TRL and hear 10 seconds of their song between girls screaming.
I'm all about the real music. So I give you the great artist of my teenage years….Mr. Vanilla Ice…click on the link and it will open in another window...
"Ice Ice Baby"ByVanilla Ice


(to those of you who don't have speakers or dsl or the right to watch bad 1990's music videos at work…you are really missing out. But actually those of you who don't have speakers aren't really missing much. The joy of this video is all visual.)